Where we create inspirational life lessons for girls everywhere AND our employees.
American Girl HQ
For more than 30 years, American Girl has inspired girls to think about who they are - and who they want to be - through a content-rich, premium experience. We strive to do the same for our 1,700 employees.
On-site conveniences like a cafeteria and toy store
Philanthropic opportunities
Social events
Family-friendly environment
View American Girl HQ Jobs
American Girl Retail
Our retail stores offer a variety of experiences and opportunities:
30% product discount
Philanthropic opportunities
Fun working environment
Flexible schedules
Treat Days and social activities
View American Girl Retail Jobs
American Girl Home Agents
We are excited to offer the flexibility to work from your home as a customer service agent.
Convenience of working from home
30% product discount
Flexible schedules
Create your ideal office space
Ample training, access to vast resources and open communication
Work in your PAJAMAS!
View American Girl Home Agent Jobs
American Girl is headquartered in Middleton, just minutes from the state capital of Madison and the world-class University of Wisconsin-Madison. Finding free-time fun in our area is easy: five sparkling lakes, more than 200 miles of scenic biking and hiking trails, and a thriving foodie scene are just a few of the things that inspire our corporate employees to explore.
Our retail locations can be found in some of the most popular cities in the U.S., as well as Canada and the United Arab Emirates. Each store is surrounded by all the amazing shopping, dining and tourist opportunities these metropolitan sites offer.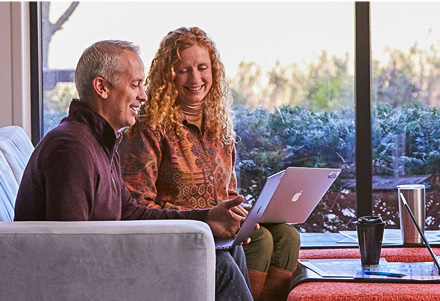 Our on-campus toy store and cafeteria get a serious workout from our employees every day.
Toy Store: Grab products from American Girl and other Mattel brands like Fisher-Price, Hot Wheels, Barbie and MEGA for 50% off with your employee discount
Cafeteria: With a wide range of healthy and convenient options, you can check out daily breakfast and lunch specials and take advantage of in-house catering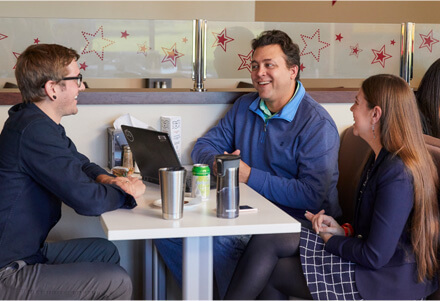 Caring deeply about how kids develop is at the core of who we are. We partner with organizations and community events that embody that same value to provide our employees opportunities to give back:
Adopt-a-School (backpack drives, winter gear donation and thanksgiving basket donations)
United Way Seasons of Caring
Big Brothers Big Sisters of America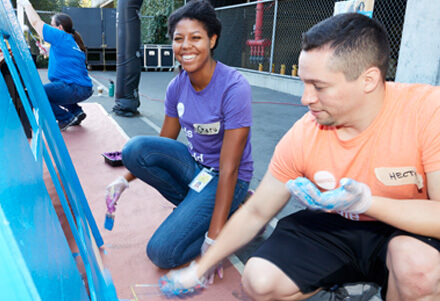 We believe spending quality time with our family is the best thing we can do to ensure a brighter future for the next generation. Flexibility is key, and we encourage our employees to be there for special moments at school, important appointments, and other family activities. Take Your Kid to Work Day is one of our favorite days of the year!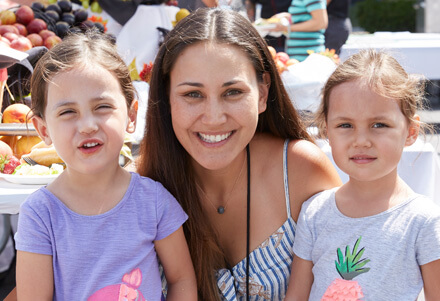 Taking time to connect as a team is what helps us stay in sync.
Regular employee socials
Holiday gatherings
ERG group activities
Volunteer events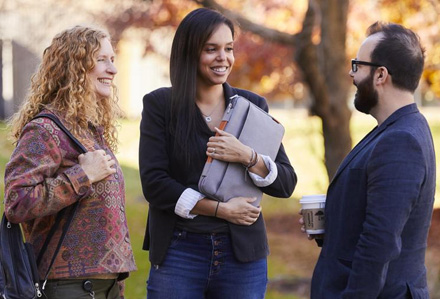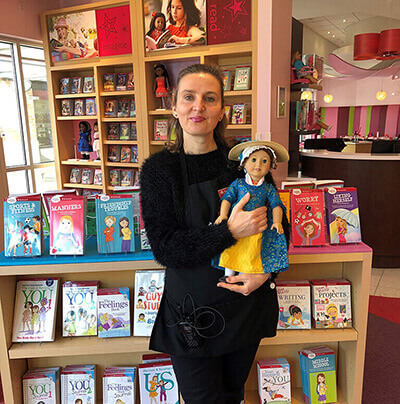 I enjoy working at American Girl because it is a family friendly work place. My favorites are the BeForever characters because girls get to learn about history. Whenever I help a guest pick out that perfect gift, it puts a smile on my face. Veronika