American Girl Retail Jobs
It takes a lot of talented people to make a girl's visit to American Girl unforgettable, and we're always looking to add to our teams. American Girl stores are fun and upbeat, and we offer our employees the same premium experience we provide to our customers, including volunteer opportunities, employee discounts, treat days, and more.
Our Positions
Sales Dept Clerk

- engage with our customers and share the WONDER of our products

Merchandise Handler

- play a key role in restocking and back-of-house operations

Merchandising Associate

- ensure our sky-high American Girl standards are met in the store

Experience Associate/Doll Hair Stylist

- create an unforgettable experience for girls, mainly by styling their doll's hair and making them look beautiful

Flyers

- help where you're most needed each shift as the ultimate team player (Sales Dept Clerk, Merchandise Handler, or Merchandising Associate)
Hosts

- deliver an amazing first impression by greeting and seating guests, and managing the reservations system

Servers

- extend the premium store experience to the restaurant for our guests

Runners

- play a pivotal role in making sure guests have everything they need, including refills and clean tables

Cooks

- craft meals fit for a celebration

Leaders

- lead a talented team to deliver the ultimate customer experience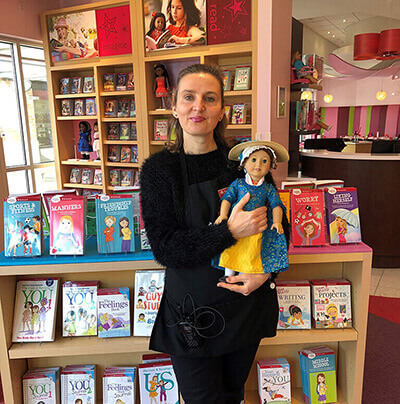 I enjoy working at American Girl because it is a family friendly work place. My favorites are the BeForever characters because girls get to learn about history. Whenever I help a guest pick out that perfect gift, it puts a smile on my face. Veronika
You have not recently viewed any jobs.