Where our employees laugh, learn and explore on their own terms.
Our Campus
Fisher-Price defines the category in infant and preschool toys, and we do it through a unique Team Center approach at headquarters, which:
Features an open working environment - no cubes!
Fosters our creative culture
Allows team members to maintain a competitive edge in new product development
Creates an atmosphere of support ideal for idea-sharing, decision-making, and recognition
This structure, along with our other on-campus conveniences, provides the flexibility our employees need to help families get ready for the crazy adventure that is parenthood.
View Jobs at Fisher-Price
Our Location
Fisher-Price is headquartered in East Aurora, New York: a small, historic village 20 minutes southeast of Buffalo.
Close-knit community with good schools, charming homes, great parks and friendly neighbors
Walking distance from Main Street for shopping and lunch
Destination for creatives with Roycroft Campus and local art festivals
Quick drive to Buffalo, Rochester & Toronto
Niagara Falls, ski country, the shores of Great Lakes, nature preserves, vineyards and state parks nearby
We take play seriously, especially when we're studying it in one of our labs, or capturing its best moments in our studio:
Play Lab (testing 500+ toys per year and observing children in a playful research setting)
Right at Home Lab (testing baby gear products in an authentic home-like setting)
FP Photo Studio (photographing 3,000+ kids each year for global Fisher-Price packaging)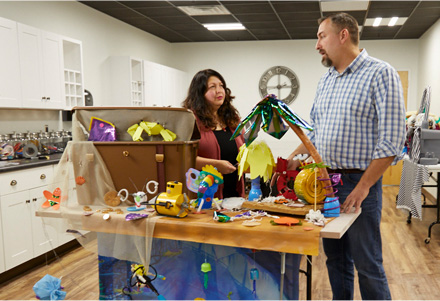 We believe our employees need to give themselves the best possible start to each day. That's why we offer an on-site daycare and fitness center to help balance the demands of family life.
Daycare: The East Aurora Community Nursery for children 8 weeks to 5 years focuses on nurturing the whole child to meet physical, intellectual, social and emotional needs.
Fitness Center: In addition to state-of-the-art equipment, personal training, fitness challenges, and a wellness incentive program, you can also hop on one of our custom Fisher Pricycles for a fun workout!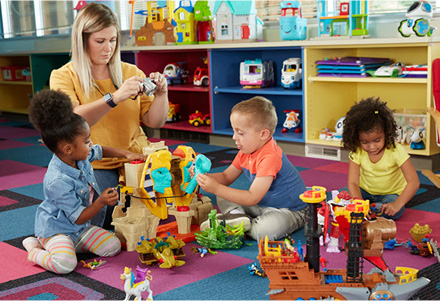 If you need a bit of inspiration on the Fisher-Price campus, you won't have to go far to find it:
The Gear Box: A workspace within our state-of-the-art model shop for employees to ideate and tinker
Heritage Museum: Fisher-Price's rich history on display 24/7 to remind us what we're made of, and inspire us to add the next milestone moment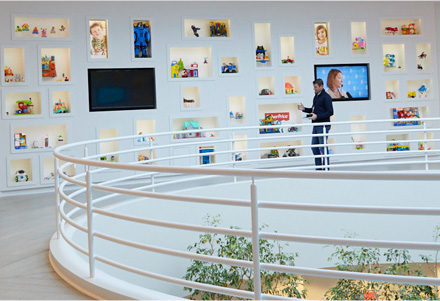 When building a brighter future for the next generation is at the heart of everything you do, you make sure to set aside time to give back.
Oishei Children's Hospital: sponsorship through the Fisher-Price/Mattel Family & Child Support Services Floor
Ronald McDonald House: hosted "Play Space" for 5k run
Boys & Girls Clubs of America: on-campus Day of Play event
Go Baby Go: helping families modify cars for mobility issues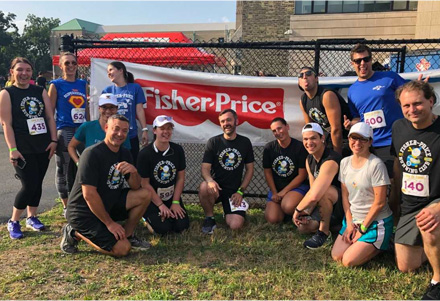 When you've been around as long as we have, you tend to collect some pretty cool on-campus traditions:
FP Mix Faire: "trade show" style event for Fisher-Price employees to bring their wild ideas out of the garage!
Monthly Fika Sessions: employee led monthly innovation series
Traditions: Ice Cream Social, Spring Plant Sale (for charity), Gingerbread House Contest, Family Movie Nights, Halloween Party and the Silver Dollar 20 Year Anniversary Celebration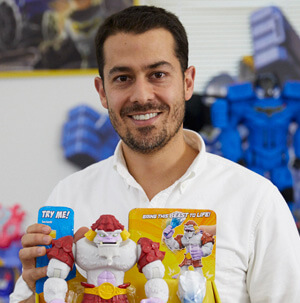 There are a wide range of brands and focuses you could work on within Fisher-Price. Whether it's more towards helping parents and preparing them within baby Gear, to working in the iconic Little People brand which we all grew up with, or even with superheroes and dinosaurs in Imaginext. Giorgio